Day for Change information in English
Are you looking for an educational project that gives your students a broad and open view of the world? With Day for Change your students will acquire international competencies and learn about sustainable global citizenship!
What we offer
We offer several educational activities that revolve around world citizenship, sustainable entrepreneurship and managing money including lectures, workshops and a project in wich students set up their own sustainable company: the Day for Change Action.
Our education activities are suitable for students between the age of 10 and 16. We have adapted the content for all educational levels.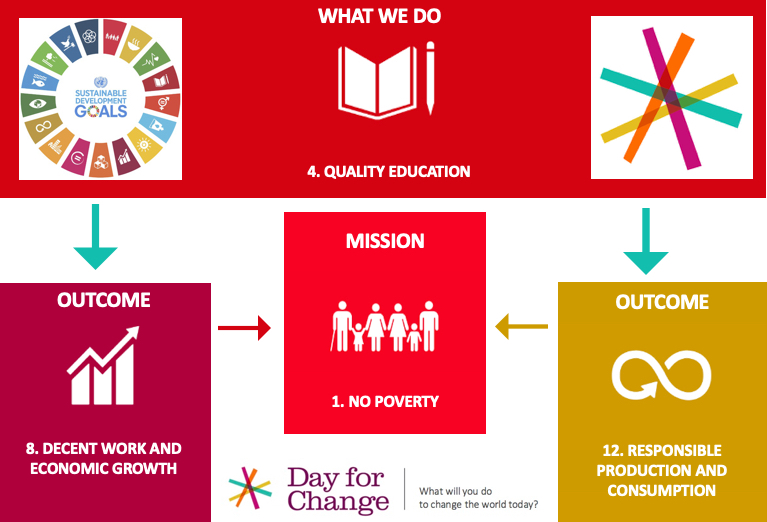 Every year around 6.500 students take part in the
Day for Change Action!
The Day for Change Action
During the project, students start their own business with a microcredit from Day for Change. They experience that the value of money is relative, that a small amount can become a large amount and that they can contribute to a better world through their entrepreneurship and creativity.
Besides awareness, students develop their social and entrepreneurial skills. They learn how to make and present a business plan. By means of the 3Ps of People, Planet & Profit, they learn to create added value with their product or service: not only financial value, but also value for people and the environment. Moreover, the profit they make benefits enterprising people in developing countries.
Curriculum
The Day for Change Action ties in with the core objectives of various domains, especially People and Society, and with individual subjects, including:
Economics
Business Economics (preparation for)
Optional subject Entrepreneurship
Geography
Teaching materials
The teaching materials of the project consist of a teachers manual with the outline of the project and workbooks for the students. With the help of text, video material, worksheets and assignments, the students are guided in setting up their own sustainable business. You can request a free preview of te workbook.
Full version
If you choose to do the full program we offer several lectures and intensive support:
Lecture Global Citizenship
Lecture Sustainable Business
Presence during the Pitch
Presence during the Closure
If you don't have sufficient time or funds you can choose to limit the parts of the program you want to offer your students. The project can always be adjusted to your schedule and budget.
Online version
You can also choose to do the online version of the project. You will receive a teachers manual and access to a series of instructional video's for your students (10 to 15 minutes each) and additional assignments which will help your students to set up their own sustainable business.
Planning
The Day for Change Action is modular and very flexible. The expected time investment for participation is at least three days, but preferably the project is spread over a longer period (usually 6 to 8 weeks, longer is also possible). Participation is possible throughout the whole school year.
In the schedule below we offer an outline for the planning of the project. This outline functions as a guideline. It is possible to choose your own topics and assignments to fit the project into your schedule. We are available for consultation if you want to discuss the steps to be taken in the project, .
| Lesson | Topic |
| --- | --- |
| | Introduction of the project by the teacher |
| 1 | Global Citizenship |
| 2 | Sustainable entrepreneurship |
| 3 | Writing the businessplan |
| 4 | Pitch |
| 5 en 6 | Execution of the business plan |
| 7 | reflection and evaluation |
| 8 | closure |
Summarizing
A project that truly enthuses your students
Your students develop 21st century skills and an entrepreneurial attitude
Your students become more aware of the value of money in their own live and in the lives of others
The project stimulates you students to become active global citizens
We offer high-quality teaching materials and intensive support by our experienced team
Contact
We are always available to discuss the opportunities for your school. Please contact us.